Aeronautical Ground Earth Station (GES) Emulator
Aeronautical Ground Earth Station (GES) Emulator.
The Square Peg Communications Inc. (SPCI) Ground Earth Station (GES) emulator provides a simple and flexible means of testing the operation of Aeronautical Earth Stations (AESs) and end-to-end applications for the Inmarsat Classic Aero service, without the expense of airtime charges. It can be used to test basic AES functionality, including Aero I/H+ and Aero H voice calls, and data transfer applications such as ACARS.
The emulator implements a simplified GES. It transmits P channels to the AES and receives R channels from the AES, both for system management and for data traffic. It also receives T channel data traffic from the AES and supports the T channel reservation protocols. The emulator supports circuit switched services over both 8,400 and 21,000 bps C channels.
The emulator maintains a list of valid AESs, and handles logons by and calls to or from any AES on the list. Multiple simultaneous calls can be supported, depending upon the hardware configuration.
Aero-I/H+ calls are supported by external SPCI Voice Codec Units (VCUs) connected to the emulator. The VCU provides a standard 2wire or 4wire analog phone connection, enabling an end-to-end voice conversation to take place between the emulator and the AES handset. The encoded voice stream from an AES can also be looped back to the AES handset.
The emulator supports Data-2 services over the P, R and T channels at all SDM-defined data rates. Data traffic can be exchanged with an external application (e.g., an ACARS server) over a UDP-based link service user interface. Communication of ACARS data over an X.25 WAN interface (e.g., to the SITA or ARINC network) is also supported. A basic ACARS messaging exerciser is included, which can provide automated acknowledgements of downlink messages and responses to ACARS UTC time requests. Free-text messages can also be generated.
The GES emulator is based on the SPCI Aeronautical Ground Data Unit (GDU), which can also be used for detailed physical layer and protocol testing of AESs and GESs. The same hardware platform supports similar physical layer and protocol test applications for other Inmarsat services such as Swift64 and SwiftBroadband.
Emulator Components

PLT Channel Unit (CU)
with Sync I/O interface(s)

Sync I/O interface required for operation with VCU

Optional X.25 interface 

PLT RFU Unit and high
power attenuator
High power attenuator required if interfacing after HPA
GDU software
Ground Data Unit application
GES emulator application
Voice Codec Unit (VCU)
Aero-I/H+ codec with 2W or 4W interface, or customer-furnished Aero-H codec

Voice Call Routing

Terminal types
Aero-H/Aero-H+/Aero-I/Aero-L
AES class
1, 2, 3 or 4
Number of simultaneous
AES logged on
1
Circuit-mode services
Aero-I/H+ voice calls
(4.8 kbps AMBE)
Aero-H voice calls
(9.6 kbps LPC)
Maximum number of calls
Data-2
Packet-mode services
600, 1200, 2400, 4800, 10500
P/R/T-channel bit rates
Shared Rd/Rsmc: 2
Independent Rd/Rsmc: 1

Voice Call Routing


Air-to-ground
Initiated by AES; dialed number determines terminating interface
Ground-to-air
Initiated via GUI; dialed number determines AES and terminal ID
Air-to-air
Initiated by AES; dialed number determines terminating AES and terminal ID (audio loopback if same)

Data Interfaces

Data-2
UDP interface with external link service user
X.25 WAN to packet network
ACARS

Simple ACARS link service user application is included

Response to UTC time requests
Acknowledgement of other downlink messages
Transmission of free text uplink messages

Example Configurable Parameters


Ocean region
System Table
Spot Beam Map
Operating frequencies/power
Satellite ID and GES
Psmc/Rsmc frequencies
Obtained from currently selected System Table
Authorized AESs
List of authorized AES IDs
Dialing strings
Map dialed numbers to VCU port or AES loopback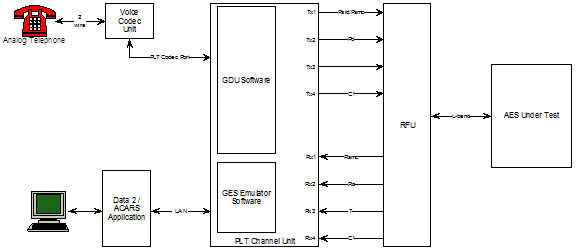 Square Peg Communications Inc.
4017 Carling Avenue, Suite 200 
Ottawa, ON, Canada K2K 2A3
Tel + 1 613 271 0044
Fax+ 1 613 271 3007
Linkedin
Contact us for more information: