RLS-2100 Radio Link Simulator
A new class of satellite channel simulator.
RLS-2100 delivers the most value for a channel simulator of its kind.
It is the most comprehensive, with unparalleled impairment simulation, real-time multi-satellite orbit calculation, full motion support and integrated GPS simulators. It is the most flexible, providing end-to-end or single link simulation of wideband terrestrial and satellite networks, satellite selection via open standard interfaces, and facilities to enable seamless integration into more complex test beds if required. It supports the highest bandwidth and has an intuitive, user-friendly interface. And it does it all in one box.
The RLS-2100 was designed from the ground up to simulate the growing complexity of satellite-based networks. It allows satellite network operators to realistically model networks and to complete rigorous testing of high-bandwidth LEO/MEO applications with full mobility. It allows satellite modem or terminal manufacturers to test complex and dynamic scenarios and ensure compliance under a variety of channel conditions, without additional external devices. And with its native support for ARINC 429 and OpenAMIP, it allows in-flight connectivity providers to ensure gate-to-gate reliability with seamless handovers by recreating complex on-air scenarios before flying.
The RLS-2100 was developed with support from the Canadian Space Agency's Space Technology Development Program.
Complete end-to-end simulation
The RLS-2100 provides a fully integrated, end-to-end link simulation for any satellite constellation combination, regardless of orbit. The simulated signal path includes the RF characteristics of the transmitter, uplink, satellite/relay, downlink, and receiver, via realistic modelling of characteristics such as path delay, Doppler, and fading. All stations (transmitter, satellite/relay, receiver) can be in motion, with the affected simulation parameters updated dynamically.
Superior user interface
The RLS-2100 is easy to operate and navigate, with integrated controls, touch-screen support, real-time visual display, and intuitive parameter input.
Highly integrated and flexible
The RLS-2100 includes a comprehensive out-of-the-box feature set that reduces the need for add-ons, along with interfaces that allow it to work seamlessly with a wide range of devices and in a wide range of test configurations.
Highest bandwidth
The RLS-2100 has a future-proof 1.2 GHz of processing bandwidth – the maximum supported of any existing satellite channel simulator today, supporting up to 4 channels per unit.
Comprehensive impairments set
The RLS-2100 includes an industry-leading number of fully integrated impairments in a single box. Impairments can be easily configured, applied and modified, providing an accurate simulation of the combined effects in real-time.
Functional Capabilities

Impairments

Independently-specifiable parameters:

Path delay (fixed or position-based)
Doppler (fixed or motion-based)
Additive wideband noise
Phase noise density (spectrum, level)
Phase noise discrete (level, frequency offset)
Interference (type, level, frequency)
Multi-tap fading (model, bandwidth, C/M ratio, differential delay/Doppler)
Blockage and shadowing
Antenna gain pattern
Antenna phase and amplitude jumps (probability distribution, interval)
Atmospheric effects
HPA non-linearity
Frequency response

Other capabilities

Orbital dynamics (LEO/MEO/HEO/GEO)
Terrestrial/aeronautical station dynamics
Antenna dynamics
Dual independent GNSS simulators
Station dynamics display
Signal spectrum and power profile displays
Link parameter graphical displays (range, path delay, path loss, Doppler, Doppler rate)

Signal Path

Channels / bandwidth

1 x 1200 MHz
2 x 600 MHz
4 x 300 MHz
4 x 150 MHz

Frequency
700 to 2150 MHz, Independent for input and output

GPS Simulator

Independent positions
2
Frequency
1575.42 MHz (GPS L1)

Additional Capabilities

Cooperative Units
4
Remote control
Station position output
Antenna pointing input
Ethernet, Serial
Antenna emulation
OpenAMIP
Spectral display
2 independent
Power profile display
2 independent
Reference mode

Internal
External
Disciplined

Monitor & Control Interfaces

Sync
TTL, configurable as input or output
Reference
10 MHz
Ethernet
10/100/1000 Base T
Serial
RS-232/422/485
USB
USB 2.0, USB 3.0
Video
Display Port, HDMI, VGA
A comprehensive user interface, with full touch screen support, allows real-world scenarios to be mapped directly to the applicable elements in the signal path.
Graphical displays of signal spectrum, power profile, and other parameters are available at points throughout the signal path, facilitating debug of test setups and allowing simple visualization of the effects of the applied impairments.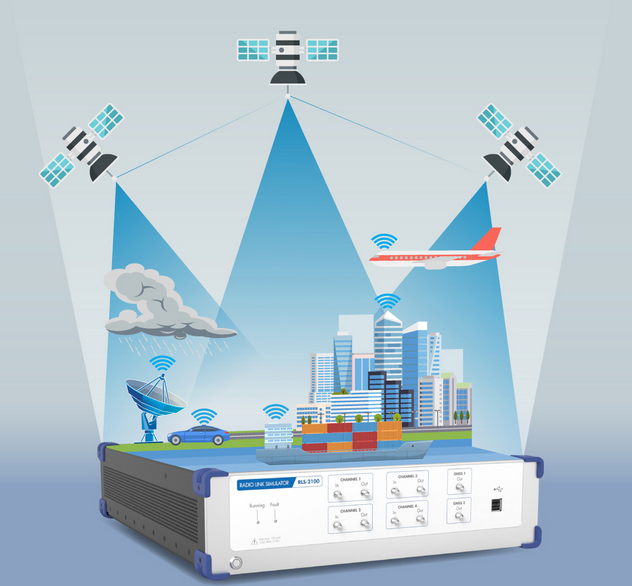 Square Peg Communications Inc.
4017 Carling Avenue, Suite 200 
Ottawa, ON, Canada K2K 2A3
Tel + 1 613 271 0044
Fax+ 1 613 271 3007
Linkedin
Contact us for more information: