RLS-2100 Radio Link Simulator
Bring your satellite link into the lab.
The RLS-2100 Radio Link Simulator revolutionizes satellite link testing.
With a comprehensive set of impairments that can be applied to virtually any wideband scenario, the RLS-2100 is an all-in-one system that gives you total confidence.
The stakes are high — and you need to be sure it works.
The RLS-2100 delivers everything today's space innovators need.
1.2 GHz instantaneous bandwidth
Wideband radio frequency simulation of transmitters, uplinks, satellites/relays, downlinks, and receivers
Support for GEO, HEO, LEO and MEO constellations – or any combination of these – computed in real-time
Physically accurate modeling of all link conditions, including Doppler, delay, path loss, rain fade and more
GPS, OpenAMIP or ARINC 429 interfaces for synchronization of devices under test with the simulation, and Python-based remote control API for easy automation
See examples of what the RLS-2100 can do for:
The most versatile and comprehensive tester
The RLS-2100 is the most versatile satellite link tester available — delivering fast, repeatable results. It is the ideal choice to:
Upgrade test beds for wideband signal compatibility
Verify link budgets with true hardware-in-the-loop testing
Test modem performance under dynamic link conditions
Verify new satellite network configurations
Prove and refine next generation satellite network concepts prior to deployment
Powerful testing solutions
Our satellite link tester is easy to set up and use:
Connect the modem I/O ports to the RLS-2100 I/O ports with RF cables
Input the location of transmitting and receiving stations
Load a TLE file to specify the location/orbit of the satellite(s)
Configure the interface and modeled RF frequencies used for the uplink and downlink paths
Explore performance aspects by enabling blocks such as delay/doppler, noise, path loss, multipath fading, rain fading, etc.
The RLS-2100 does all the work to impart the selected characteristics in real-time
Functional Capabilities

Impairments

Independently-specifiable parameters:

Path loss, delay and Doppler (fixed, position-based or user file)
Additive wideband noise
Phase noise density (spectrum, level)
Phase noise discrete (level, frequency offset)
Interference (type, level, frequency)
Multi-tap fading (model, bandwidth, C/M ratio, differential delay/Doppler)
Blockage and shadowing
Antenna gain pattern
Antenna phase and amplitude jumps (probability distribution, interval)
HPA non-linearity
Phase and amplitude frequency response
Atmospheric effects including ITU rain fading
5G fading and path loss models

Other capabilities

Orbital dynamics (LEO/MEO/HEO/GEO)
Terrestrial/aeronautical station dynamics
Dual independent GNSS simulators
Station dynamics display
Signal spectrum and power profile displays
Link parameter graphical displays (range, path delay, path loss, Doppler, Doppler rate)

Signal Path

Channels / bandwidth

1 x 1200 MHz, or
2 x 600 or 400 MHz, or
4 x 300, 200, 150 or 100 MHz

Frequency
Std: 700 to 2150 MHz (Independent input/output)
Opt: internal 5G FR1 (400 to 7125 MHz)
Opt: external 5G FR2 (10.7 to 31 GHz)

GPS Simulator

Channels
2, derived from station positions
Frequency
1575.42 MHz (GPS L1)

Additional Capabilities

Cooperative Units
4
Remote control
Ethernet via Python API
Station position output
Ethernet, ARINC 429
Antenna emulation
OpenAMIP or custom
Visualization
Orbit and route animation
Spectral display and Power profile display
4 independent plots, at input or output
Link parameter display
4 independent plots of range, loss, delay, delay rate, Doppler or Doppler rate, for uplink, downlink, ISL or composite path

Monitor & Control Interfaces

Sync
TTL, configurable as input or output
Reference
100 MHz internal, external or disciplined
Ethernet
10/100/1000 Base T
Serial
RS-232/422/485
USB
USB 2.0, USB 3.0
Video
Display Port, HDMI, VGA
A comprehensive user interface, with full touch screen support, allows real-world scenarios to be mapped directly to the applicable elements in the signal path.
Graphical displays of signal spectrum, power profile, and other parameters are available at points throughout the signal path, facilitating debug of test setups and allowing simple visualization of the effects of the applied impairments.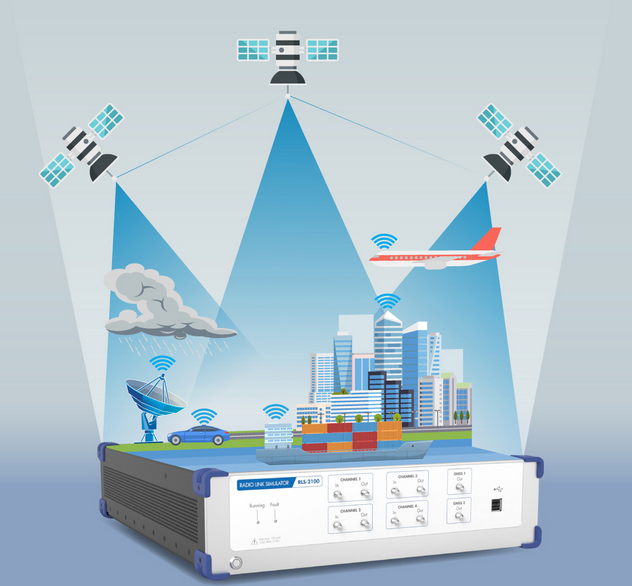 Let us show you how it works
See if RLS-2100 fits your needs
Square Peg Communications Inc.
4017 Carling Avenue, Suite 200 
Ottawa, ON, Canada K2K 2A3
Tel + 1 613 271 0044
Fax+ 1 613 271 3007
Linkedin
Contact us for more information: